Everything there is to know about Cooloo x Milan Design Week 2022
Everything there is to know about 
Cooloo x the Milan Design Week 2022
Cooloo returns to Salone with The next step in circularity
After last year's international success in Milano, Cooloo is back in town for the Salone del Mobile 2022. The Dutch radical innovators are part of Masterly –  the Dutch in Milano. Showcasing Cooloo's latest sustainable materials and technologies, a circular material exhibition, plus a new collaboration in the small courtyard of the Palazzo Turati. As well as collaborations in throughout the city.
Winding your way past this piece you can enter the corridor to see and feel the raw waste materials that are the base of the coatings. Leather, cork, jeans and much more is on display to show you where it comes from and how it is processed into beautiful products. Finally, you will enter the lush small courtyard to see the collaboration with Kullar. A new furniture collaboration created for the transformation of the Peace Church in Tilburg, the Netherlands. This furniture set combines CNC milling and simple assembly with circular coatings by Cooloo. Creating a simple, robust and sustainable iconic line.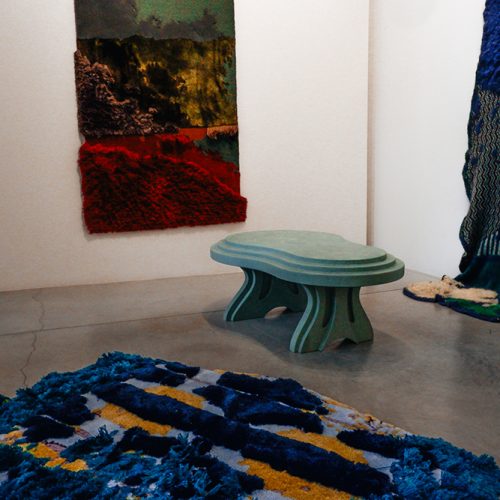 For the Dutch Atelier at Isola Design District, curated by Wisse Trooster we coated two objects: the mint table by Sandra Keja Planken with a special mint green Econcrete. And of course the amazing Foamblock chair by Teun Zwets. Discard pieces of foam, glued together and coated with Ameba technology and our CoolJeans coating, placed onto the Studio Wae circular carpets. But that's not all…
On the other side of the city there were two really special pieces. At Alcova we showcased a remanufactured Barcelona daybed by Paul Cournet, made from tennisbal foam and our flexible silver coating. The straps by ECCO Leather, and and attached to an original second hand Mies van der Rohe frame.
Finally there was the experience of Lisa Ertell and Jannis Zell at the Marsèll Paradise gallery. These two German designers made a flexible modular sofa coated with recycled leather from Marsèll shoes.